SMOK | Rigel Mini 80W Kit | Single 18650 | 2ml TFV9 Mini Tank
SMOKRIGELMINIK
Inheriting the RIGEL's merits and excellent features while being slimmer and lighter, the RIGEL MINI can provide power beyond your expectations. Equipped with a TFV9 Mini tank and a powerful chip that can fire up to 80 watts, powered by a single 18650 battery (sold separately), it will take your experience to the next level with an even greater leap in performance and flavour delivery.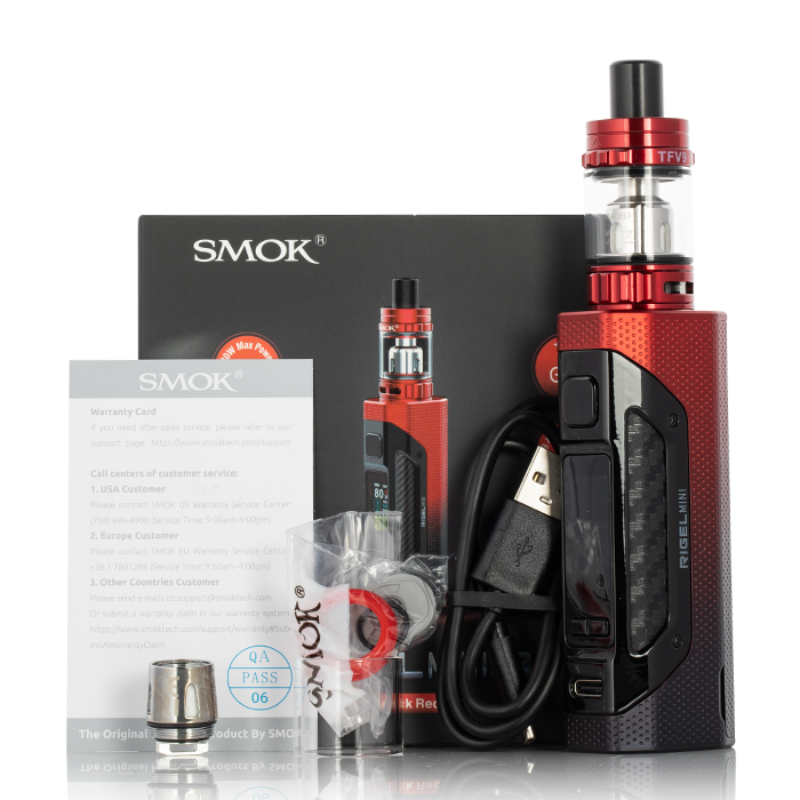 Start Your Engines
Combined with your choice of juice, the power range of 1W – 80W allows you to enjoy the most satisfying cloud and flavour throughout the day. Never miss a terrific puff!
0.96″ TFT Colour Screen
The frontal 0.96″ TFT colour display offers essential vaping data in a scaled-up layout to help you better understand the status of the device.
Multiple Safety Protections
The RIGEL MINI provides multiple types of protections to avoid potential risks
Intelligent atomiser recognition
Puff monitoring system
8 Second cut-off
Short circuit protection
Over-heating protection
Low-battery warning
Hassle-Free Fast Charging
Slow charging is a hassle, especially during times of heavy use. The RIGEL MINI uses Type-C fast charging with an output current up to 1.4A so that you never need to wait long for your device to be ready to go!
Specifications:
Tank Size: 23mm (Diameter) x 55.8mm
Tank Weight: 48.5g
Mod Size: 34.24mm x 24.24mm x 88mm
Mod Weight: 62.5g (Without Battery)
Output Wattage: 1W – 80W
Standby Current: <100uA
Input Voltage: 3.3V – 4.2V
Output Voltage: 1.0V – 6.5V
Resistance Range: 0.1 Ohm – 2.5 Ohm
Charging Voltage: 5V +- 0.2V
Charging Current (Max): 1.4A
Kit Includes:
1 x RIGEL MINI Mod
1 x TFV9 MINI Tank (2ml)
1 x V9 Mesh Coil 0.15 Ohm (Pre-Installed)
1 x V8 Baby Q2 0.6 Ohm Coil
1 x Replacement Glass
1 x Type-C USB Cable
1 x User Manual